Getting Started
To use Graffiti first open the iXBRL documents with your browser and click the graffiti button/bookmarklet to highlight iXBRL tagged items.
Usage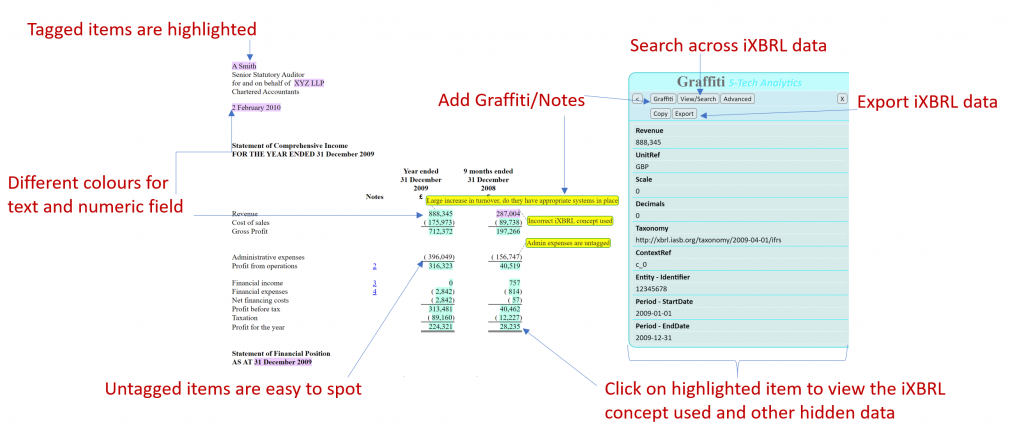 Tag details
Click on a tagged(highlighted) item to show the iXBRL details.
View/Search
View iXBRL data, as tables or JSON where appropriate.
Search for a figure, tag name or ixbrl property.
Highlight and navigate
Clicking on an item in a table will highlight the item in the document and take you straight to it.
Export the data as JSON or CSV.
Export the data to use in other fancy analytical tools or plain old excel.
Graffiti – Notes
Add graffiti notes to the accounts, by clicking "add" from the "graffiti" submenu and click anywhere with text/figures and then place/move the note for optimal clarity.
If you are using a modern browser and viewing a document secure over a secure connection(HTTPS or a local file) then the notes are encrypted and stored in the browser cache, which will be available next time you open the document with Graffiti.
For security reasons you may lose access to your notes if you move the document location or file name.
Remember to save a copy of the document if sharing it or before clearing the browser cache.
To save a copy of the document with Graffiti embedded, click the Graffiti button then click save.
You can export the notes for GDPR or other legal requirements.
Sharepoint
If storing iXBRL documents on SharePoint, you may need to take one of these steps to use Graffiti over those documents.
Sync or map the SharePoint folder. Then open the document in explorer as usual.
Rename the iXBRL document file extension from xhtml/html to aspx. You should then be able to open the iXBRL document from SharePoint and run Graffiti. e.g. rename accounts.html to accounts.aspx before uploading to SharePoint
Support
If you have any issues, need a little help or have any suggestions please email us at support@stechanalytics.com