Graffiti Released
Graffiti adds secure and modern iXBRL viewer functionality to your web browser. It's a breeze to add to any major browser1 and simple to run with just the touch of a button. Graffiti is fast, locally processing and augmenting any open iXBRL document within a few seconds; highlighting all tagged items, making the iXBRL data viewable and enabling review functionality. Graffiti has a simple and intuitive user interface, so users of any technical ability can get up and running straight away. There is no quicker or easier way to view and interrogate iXBRL documents.
iXBRL formatted financial statements include a significant amount of important information as iXBRL data, which is only accessible using specialist tools such as an iXBRL viewer. While there are many benefits of using an iXBRL viewer, use is low. It's rare for someone viewing an iXBRL document to have access to an iXBRL viewer, and for those that do, often use is still low due to workflow/performance issues. So, we developed Graffiti to be quick and straightforward to use, allowing for high levels use even in fast-paced business environments. Since iXBRL data forms an integral part of financial statements, we believe it should be easily assessable to all. Hence we have released a free version of Graffiti that takes seconds to add to any browser, meaning that now everyone has easy access to an iXBRL viewer.
The Graffiti open beta gained a following of passionate users in part due to it being the fastest and simplest way to view the iXBRL data contained within a document. We've kept these as cornerstones as we tweaked existing features and added new ones. The official release provides a significant upgrade to the beta.
Key Features:
Highlighting of tagged items
View the underlying iXBRL data
Summary tables for each type of tag
Copy/export tables
The bookmarklet package makes it quick and easy to setup and use
Add graffiti/notes to accounts
Security based architecture.
The STA iXBRL engine provides unparalleled performance
A bookmarklet is just like a bookmark but runs an app when clicked.
To set up, you just drag the bookmarklet to your bookmark bar
It doesn't require installing any software or need admin permissions
You just click the bookmarklet to run over an open iXBRL document
The graffiti feature allows you to add graffiti/notes to the document.
The notes are linked to the selected content both visually and by the text
The notes are moveable for optimum placement
The notes are fully searchable
Smart search allows users to easily search across the iXBRL tags and values.
The "search as you type" functionality provides users with a real-time filtered list, saving users time
Common mistakes and problems are automatically dealt with by the engine, meaning you no longer need to worry whether to include capital letters, currency symbols, commas, etc.
Security based architecture makes Graffiti ideal for viewing sensitive and confidential documents.
The auto-update feature ensures you always have the latest security and bug fixes
Once loaded Graffiti runs completely locally2so no data or metadata about your document is leaked even to us
The compact and tested codebase was designed with a security focus and with limit attack vectors. For example, the codebase doesn't rely on any external libraries3 which are generally sources of bugs and security issues.
The STA iXBRL engine provides unparalleled performance
The engine is written entirely in JavaScript a language designed for HTML like iXBRL documents. This allows for rich integrated features and unparalleled performance4
Processes documents completely locally
The fast and compact engine means it normally takes less than a second to run and just a few seconds for even the largest of documents5
Graffiti is significantly faster6 than every other iXBRL viewer we've tested, that includes other tools that have the advantage of using specially modified documents
Graffiti is so quick and easy to use it took us less than a minute to setup Graffiti, run it over an iXBRL document, search across a table of numerical tags, view tagged data, add graffiti/notes, and more.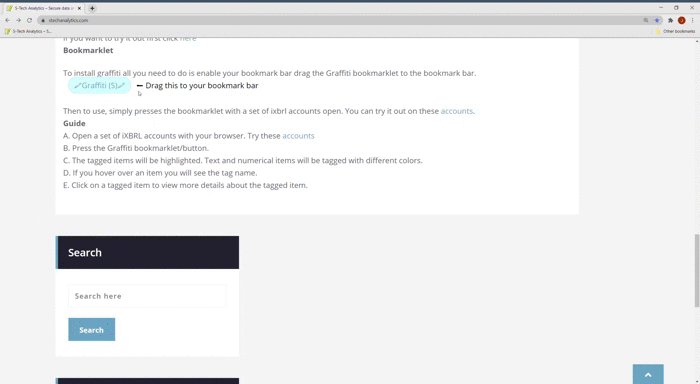 If you want to learn more about iXBRL and the benefits of using an iXBRL viewer like Graffiti, then click here.
We are confident Graffiti provides the quickest and simplest way to properly view iXBRL documents, but there is no better way to assess Graffiti than to try it yourself. So just follow the setup instructions below and within seconds you'll be ready to test Graffiti with any iXBRL documents you like. Or if you want to try first then check out our fully functional demonstration.
Setup now
Please read and agree to the licensing agreement before using.
To add Graffiti to your browser7 simply drag the bookmarklet below to your bookmark bar. 89
That's it, all done. To use it simply open an iXBRL document then press the Graffiti bookmarklet. Here try it out on these accounts.
Once you've setup Graffiti, why don't you try out most major features and win up to £100 by entering into our competition?
We also have standard and premium versions of Graffiti which have fewer restrictions and additional features. To learn more about the different versions and the bespoke configuration options we provide click here.