Graffiti - A next generation ixbrl viewer.
Graffiti a browser based iXBRL viewer that has a fast and intuitive user interface. It can be run as a bookmarklet (a bookmarklet is just a bookmark that runs an app when clicked) which means it can be installed in seconds just by dragging the program to your bookmark bar.
Its features include:
Highlighting of tagged items.
Details on all tagged items
Table view of tag
View hidden and other header tags as JSON
Export tables
Search across ixbl tags and values.
Add Graffiti/Notes to accounts.
For more details about these features click here.
Example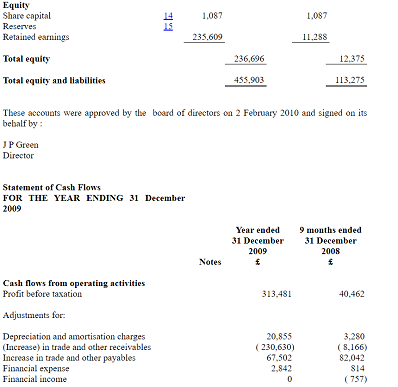 With a normal set of ixbrl accounts the ixbrl data is hidden from the user. There is a wealth of information hidden below the usual black and white surface.
Graffiti exposes this information in a quick and intuitive way. Below is the same set of accounts with Graffiti enabled. The different text and numeric tags are highlighted, and you can get details about the tags by clicking on them. Why don't you give it a try, if you click on the screenshot it will open up the accounts with Graffiti.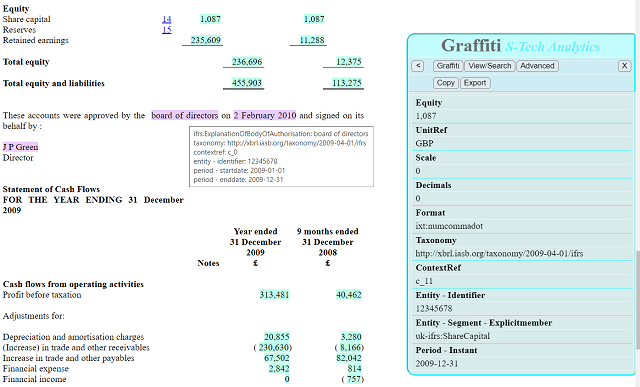 Our motto of making ixbrl accessible means that the base version is free for everyone to use.
The recommended way of using Graffiti is through a bookmarklet. A bookmarklet is just like a bookmark but rather than opening a page will open Graffiti. Graffiti is also available as a Chrome extension.
Bookmarklet

To install graffiti all you need to do is enable your bookmark bar drag the Graffiti bookmarklet to the bookmark bar.

Then to use, simply presses the bookmarklet with a set of ixbrl accounts open. You can try it out on these accounts.
Guide
A. Open a set of iXBRL accounts with your browser. Try these accounts
B. Press the Graffiti bookmarklet/button.
C. The tagged items will be highlighted. Text and numerical items will be tagged with different colors.
D. If you hover over an item you will see the tag name.
E. Click on a tagged item to view more details about the tagged item.